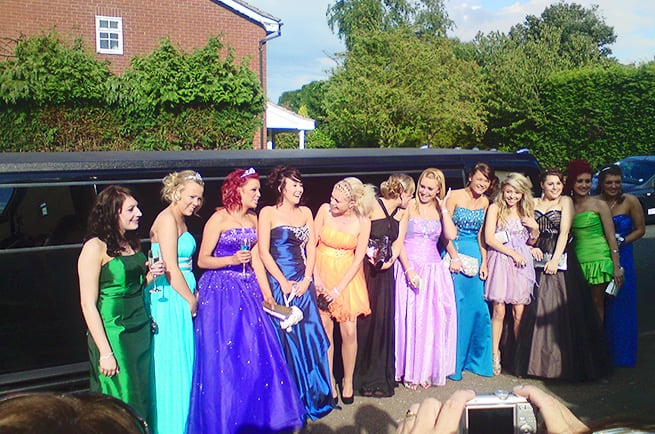 Prom Limo Hire Coventry
Senior Prom is certainly a thrilling time for school leavers in the Coventry area
Prom Limo Hire In Coventry
Proms are certainly a thrilling time for school leavers in the Coventry area. Get to your proms evening in our American extended limousines. Stick out and celebrate in style way better than others.
Best School Proms Limousines In Coventry
Our Senior Prom night promise to become a superb experience. We'll collect you & your buddies out of your home permitting sufficient time. Have a photograph, play some current favourite music and allow the evening to begin!!
Our promise for you is to give you some of the finest & latest Limousines obtainable in the united kingdom. Our Limousines are washed & regularly maintained. Our respectful drivers are experienced professionals with many years of limousine driving experience.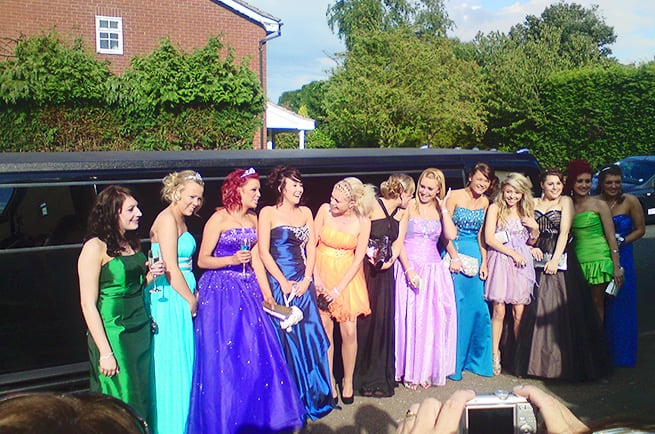 College Prom is coming up and you're looking for a limo?
Coventry School Limousine has the best prom cars in town. We offer a wide variety of vehicles to choose from, including Hummer limos, Rolls Royce Phantoms, and Bentley Bentleys. Whether you want something classic or modern, we have it all!
You deserve the best on your big night out with friends. Let us take care of everything so that you can focus on having fun with your friends on senior prom evening. We'll pick you up and drop you off at school safely without any worries about parking or traffic delays. And don't worry about getting home – our drivers will escort everyone back to their homes after the dance! Proms are one of the most important nights in high school senior prom evenings; make sure yours is perfect by booking early!
Call us today for more information on how we can help make your prom unforgettable!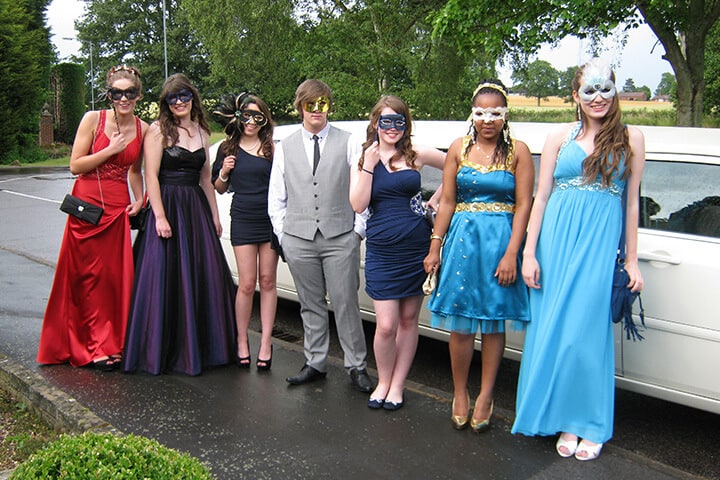 Find Prom Limos In Coventry
Proms give pupils an opportunity to have lots of fun, and not a parent to be seen.
College Senior Prom limousine is a big deal. What may look like a simple dance night to the uninitiated is actually an important event that provides a deserving climax to all those years of senior school. It transforms girls into fair ladies, and boys into gentlemen.
It's where courtesy, respect and decorum take front row seats, as couples find pleasure in each other's company as they create memories that stay with them for life. It is because of this that so many people look forward to college senior prom limo
Coventry School Senior Prom Limo Hire
It takes preparation to pull off the perfect night, and the first step is finding your ideal date. For the guys, it's the time to man up and ask that girl you've secretly liked out. It takes some confidence and charm to get a yes, but if you've got those characteristics already, then half the work is already done. Once you've got your positive response in the bag, it's time for the next step.
One of the distinguishing features of senior high school Prom is attire. Jeans and sneakers are traded for fine dresses and tuxedos. Finding the perfect outfit is critical. It's a process that shouldn't be rushed. Extravagances are permitted, if only for this one night. Don't refrain from breaking the bank in getting that designer outfit if it brings out your most desirable attributes.
Once that is in check, you need to prepare for the night itself. While showing up on time, and escorting your date to the venue sounds like a solid plan, it simply lacks excitement. You can add bucketloads of that by hiring a high school limo driving experience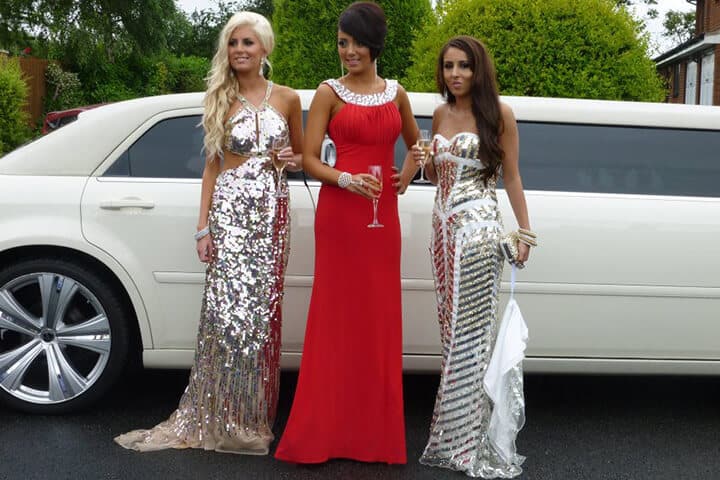 School Prom Limo Hire Best Deal
You're probably aware of the thriving limo industry. But did you know that you can totally get one for the senior school proms limos? It's not as excessive as you might think, and it doesn't have to be that expensive either.
Coventry limousine hire understands this need, students have to make the night magical, to which end, the firm provides senior prom limousine hire. The most popular choices range from the Hummer Limos to the Party Buses. These not only provide an abundance of space for different couples, but they are also easily affordable once the hiring costs are divided. Besides, what better way to kickstart the night than in the company of the people you've been friends with throughout your senior school?
Alderman's Green Community
Aldermoor Farm
All Saints' Church of England
All Souls' Catholic
Allesley Hall
Allesley Primary
Baginton Fields Secondary School
Barr's Hill School and Community College
Bishop Ullathorne Catholic School
Broad Heath Community
Caludon Castle Business & Enterprise School
Cannon Park
Cardinal Newman Catholic School
Castle Wood (Broad Spectrum)
Charter
Christ the King Catholic Primary School
Clifford Bridge Academy
Corley Centre
Corpus Christi Catholic
Coundon Court
Courthouse Green
Coventry Blue Coat Church of England School & Music College
Coventry College – City campus
SEVA School (Secondary)
Sherbourne Fields Secondary School (Physically Disabled)
Sidney Stringer Academy
Southfields
Sowe Valley
SS Peter and Paul Catholic
St. Andrew's Church of England Infant
St. Anne's Catholic
St. Augustine's Catholic
St. Bartholomew's Church of England Academy
St. Christopher
St. Elizabeth's Catholic
St. Gregory's Catholic
St. John Fisher Catholic
St. John Vianney Catholic
St. John's Church of England
St. Laurence's Church of England
St. Mary and St Benedict Catholic
St. Osburg's Catholic
St. Patrick's Catholic
St. Thomas More Catholic
Stanton Bridge
Stivichall
Stoke Heath
Stoke Park School and Community Technology College
Stretton Church of England Academy
Templars
The Westwood Academy
Tiverton School
Walsgrave Church of England Academy
West Coventry Academy
Whitley Abbey
Whitley Academy
Whitmore Park
Whittle Academy
Whoberley Hall
Willenhall Community Primary
WMG Academy
Woodfield School
Wyken Croft
Earlsdon
Eden Girls' School
Edgewick Community
Ernesford Grange Community Academy
Extended Learning Centre – Swanswell
Finham Park 2
Finham Park School A Mathematics and STEM College
Foxford Community School
Frederick Bird
Good Shepherd Catholic
Gosford Park
Grace Academy Coventry
Grange Farm
Grangehurst
Hearsall Community Academy
Henley Green School and Community Centre
Hereward College
Hill Farm
Hillfields Nursery School
Holbrook Community
Hollyfast
Holy Family Catholic
Hospital Education Service
Howes
John Gulson
John Shelton Community
Joseph Cash
Keresley Grange
Kingsbury Academy
Leigh Church of England
Limbrick Wood
Little Heath
Longford Park School
Lyng Hall School
Manor Park
Moat House
Mount Nod
Our Lady of the Assumption Catholic
Park Hill
Parkgate
Pearl Hyde
Potters Green
President Kennedy School
Radford
Ravensdale
Riverbank Academy (Broad spectrum)
Sacred Heart Catholic
Planning your school prom in Coventry
With chauffeur services, complimentary drinks, and assured transportation back home after the event, prom limo hire makes it easy to have a magical night. The entrance you make with a limo elevates your status, and even if you aren't crowned the prom couple, you still take away enough from the night to remember.
It's not unusual to hear of a love that blossomed after Prom Night. If it's a love that lasts through college and into marriage, it becomes the kind of love story worth sharing through the ages.
Remember to make your transport bookings to the prom well in advance. Demand is usually high during school prom season, and the only way to guarantee your college proms limousines is to reserve it many weeks before. You might even score a discount if you do.
Our extensive range of limos and hummers really make a real impression and impact.
Why It's Best to Rent a School Prom Limo
School Prom is a major event in many young people's high schools and it has been for some time. As the date approaches, there is a lot of planning that goes into making sure that the school prom limo will be a memorable event for everyone. The school may have decided to go with an open enrollment policy for pupils, or they may have decided to make this event an orderly and carefully planned affair. Whichever the case, school administrators now have to plan for a great and memorable school prom night by booking a school prom limousine. A Coventry school prom limousine will make your students dream come true on the night that they get together with their classmates to celebrate this special occasion.
School Prom limo operators can make all of the arrangements that are necessary to take you and your student guests to and from the school and afterwards to their respective homes. A good Coventry school limo service will have professional chauffeurs who can pick your students up at their request from their homes and drive them back home afterwards. The chauffeur will also be available to help carry out whatever needs to be done once your students get back home. You do not want your students to feel too tired upon arrival back at the school as that can cause a great deal of trouble among all of your classmates. The chauffeur will also help you get your students to their appropriate locations for meeting the parents.
school senior prom limousine are generally spacious and comfortable vehicles that will provide enough room for the numerous students who will be boarding one. The school buses rarely offer seating this large so it is usually up to the hummer limo driver to decide where the students should go and sit. Most prom night limos are equipped with TVs and DVDs so that your teenagers can have a diversion while waiting for their limousine to arrive at their destination. These are also equipped with TVs with DVD players so that all of the college prom limo caterers can play their favourite school prom in songs. If you want to provide your teens with the best possible experience while at the promenade then make sure that they are accompanied by their parents.
School prom limo companies do not typically hire out their limousines to individuals; instead, they will choose individuals who have applied and been accepted to the school prom committee. The committee will interview the students and choose those who they believe would make good institution prom party guests. After the interview, the limousine company will prepare the limousine for the night before the promenade. All rental fees will be set prior to the actual prom evening. Then the limousine chauffeur will pick up your students from their location, drive them to the school, and drop them off at the venue.
School limousines come in different sizes and styles. Your student may need a compact limo for his or her date of selection. Student limousines come equipped with everything that is needed for a prom night party including lights, music, drinks, dance floor, and more. Some of the more popular limousines that are used for proms include stretch Hummer limos, Lincoln town car limos, and chrome limousines. Limos also come with extra facilities such as TVs, karaoke machines, and other electronic items.
A prom limo rental will make the perfect transportation for your teen to and from the school prom. The price of renting a limo for prom night is much less than the price of spending several hours late for class trying to find a parking space. School limousine companies do not charge the same rate for all customers. If you want to rent a limo to transport your teenager to the school prom party, make sure you call the limousine company well in advance.