Hen Party Limo Hire Coventry
Hen Parties at local clubs or pubs in Coventry or up to Birmingham
Hen Party Limo Hire Coventry
Every little girl dreams of the day she gets married. It's a dream that remains unfazed through time, and as she gets older, she really starts to see the event, and all the magic surrounding it. And finally, when she's of age and has her prince charming, the preparation begins to fulfil what can safely be called, a life-long desire. Of course, there's one part she's got to plan for too, and that's the hen party.
Hen Party Limo before the Party Coventry
The growing significance of hen parties can no longer be underplayed. It's an event that has been embraced as an important one before nuptials are exchanged. It's the event that lets the would-be bride bond with her close circle of girls, as she celebrates her last days of singlehood.
In the past, hen parties were a time when a bride got mentored by her older kin on the importance of marriage, how to retain its sanctity, and how to keep her husband to be, and her new home happy.
Some people argue that it's a purpose that has been diluted over time. But the truth is, an evolution has taken place. Modern women take it as a chance to let loose one last time before they surrender their singlehood. The advice is still dosed out but in a more relaxed, party-like atmosphere.
Planning a hen party and want to stay out late?
Coventry Limos offers the best in luxury transportation for your special day. Whether you're looking for a night on the town, or just need some help getting from point A to B, we've got you covered. Our chauffeurs are professional, courteous and knowledgeable of all local hotspots. And if it's not too much trouble, they'll even take care of any driving duties so that you can enjoy your time with friends!
You won't have to worry about how you're going to get home after an amazing night out at the club when our limo is waiting outside ready to whisk you away! We offer packages that include everything from champagne upon arrival to VIP access at clubs around town. So don't be afraid of what tomorrow will bring – let us take care of tonight instead!
Click this button right now and book your reservation with Coventry Limos today!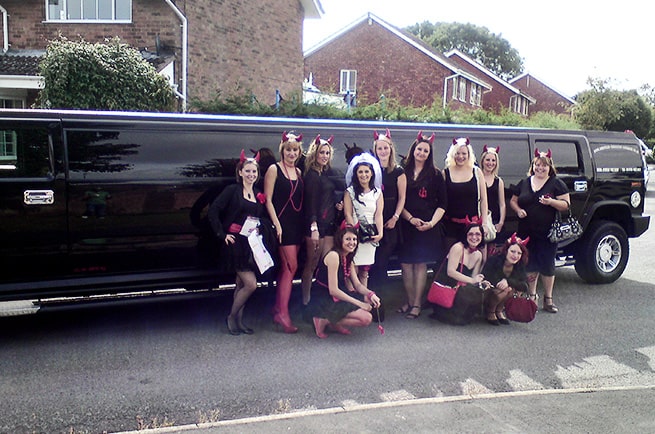 Hen Party Limos Service Coventry
A hen party takes a lot of planning though, and thankfully, the bride-to-be receives a lot of help from her close circle of friends. It's an event she doesn't even have to plan for, as most friends take it upon themselves to arrange the whole thing.
A date needs to be set, invitations need to be passed out, and the party needs to be planned. Then there is reserving the venue, hiring out the entertainment and creating an itinerary. It's a hectic process, to say the least, and the goal is to create one amazing night that the would-be bride will live to remember.
Hen/Stag Do Limo Hire Coventry
There is a different way to think of the hen party, and that is with Posh Limo Hire.
This, in Midlands, is a thriving industry, and one that is nourished by events such as hen parties. Bold Big American Limousines are as sophisticated as they are extravagant. They add the magic to the hen night in a way that no other thing can do.
With tasty options such as the Hummer Limo or Ford Excursion, it's easy to have an awesome night of partying. Adorned with the latest tech in visual and audio entertainment, and boasting plush interiors that befit a queen, these limos transform a hen night into a party of epic proportions. Fully stocked bars, neon lighting, adequate seating, and chauffeur services make limos the ultimate place to hold hen parties.
Party Bus Limo – Hen Night Party Bus
You can still hit the clubs if you had planned on it, as the limo packages allow such freedoms.
If you have a hen party coming up and are looking for a little inspiration, think Coventry Limos. It takes away most of the pressures of planning and rewards you with a luxuriant limo that acts as a catalyst for a magical hen night.