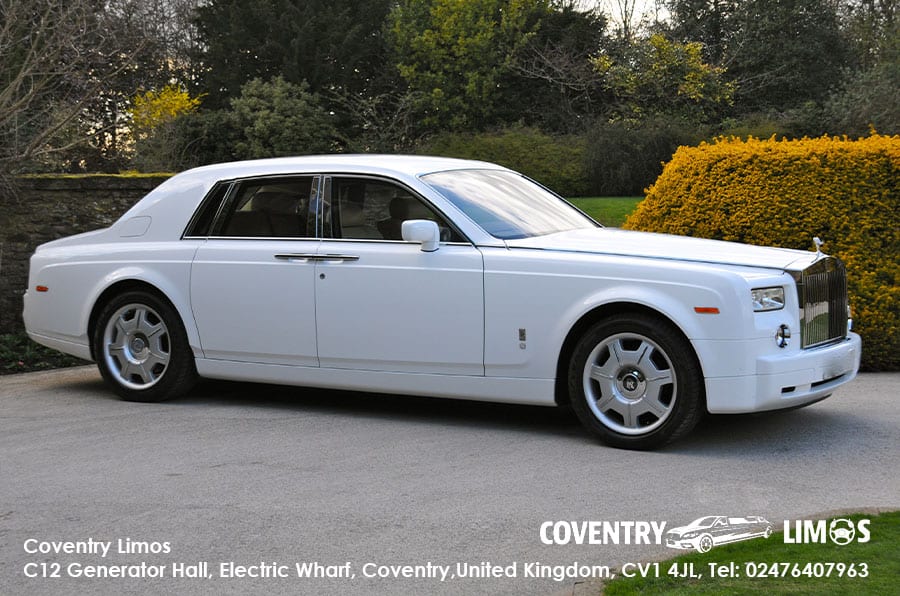 Rolls Royce Phantom Hire Coventry
A car of this calibre instantly adds prestige to every special occasion or business gathering and makes your guests feel respected.
Rolls Royce Phantom Hire Coventry
The Phantom can accommodate four passengers, each with enough legroom and comfort to enjoy the journey. The rear doors are rear-hinged, creating a distinctive and elegant entrance.
Book Now To Secure Rolls Royce Phantom for all occasions. Birthdays, girl's nights out, engagements, anniversaries, school proms, concerts or simply a way to arrive in Style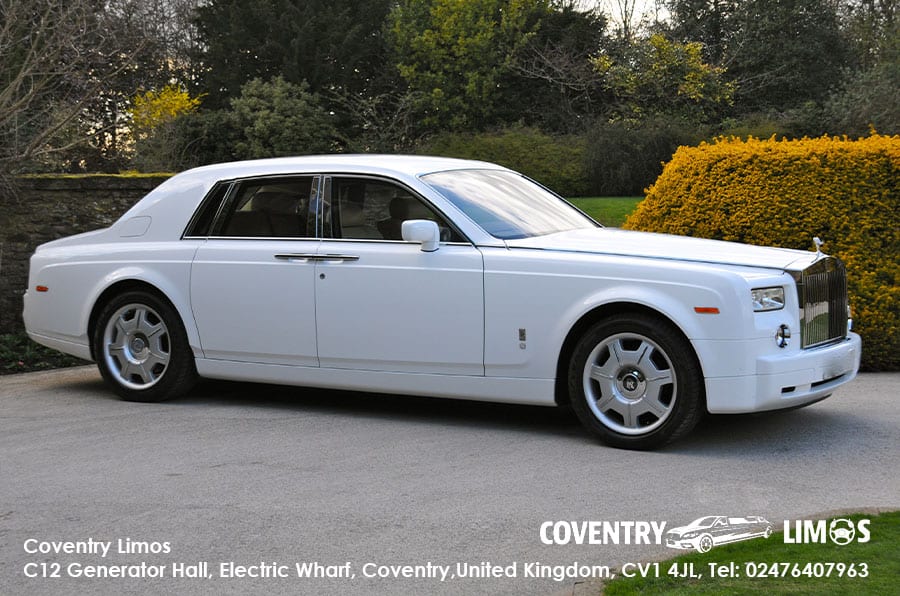 Rolls Royce Phantom
4 passengers
Large Case: 2
Hand Luggage: 2
Doors: 4
Luxury Leather seating
Air Con
Popular Journeys: Corporate travel • Wedding Hire • Luxury Airport transfers • Events • Private Tours • Shopping Trips • Proms
Corporate Phantom Hire In Coventry
Chauffeured airport or hotel transfers are available, as well as having your guests arrive in style at your party location. Enjoy the sumptuous comfort of the Phantom's air-conditioned interior, which includes Rolls Royce leather seats, TV, WiFi, and an expertly stocked bar.
Experience Coventry With a Rolls Royce Phantom
Are you in search of the ultimate status vehicle to star in your film? The Phantom limo has a unique feel with the classic proportions of Rolls Royce's signature design and the scale and appearance of this limousine model, whether you're making a corporate film, producing for TV, Film, or ads.
Shopping Trip Rolls Royce Phantom
Our model has rear-hinged doors, which provide excellent visibility into the interior and enable passengers to enter and exit with ease. Phantom Hire includes a fully professional chauffeur in a chauffeur's uniform.