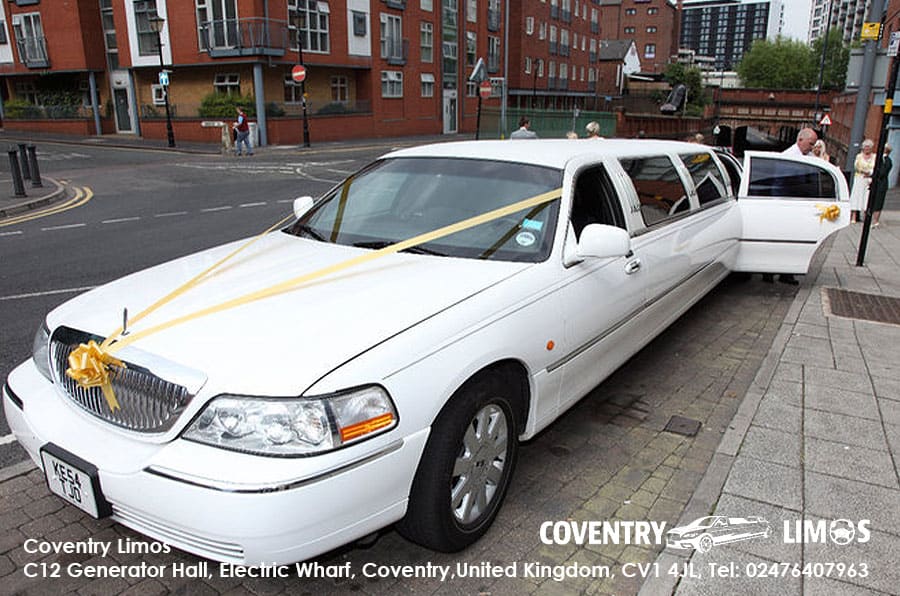 Lincoln Limousine Hire Coventry
Arrive at your destination like a Superstar in this Tiffany Super Stretch Lincoln Limousine This superb Limousine is suitable for all occasions
Stretch Lincoln Limousine Hire Coventry
Arrive at your destination like a Superstar in this Tiffany Super Stretch Lincoln Limousine This superb Limousine is suitable for all occasions, especially Weddings. Silver – Trimmed in lush light coloured leather, and an awesome array of neon mood lighting, it's not hard to understand why movie stars, pop stars and dignitaries choose Lincoln stretch limousines for their road travel and weddings. The Lincoln carries 8 passengers.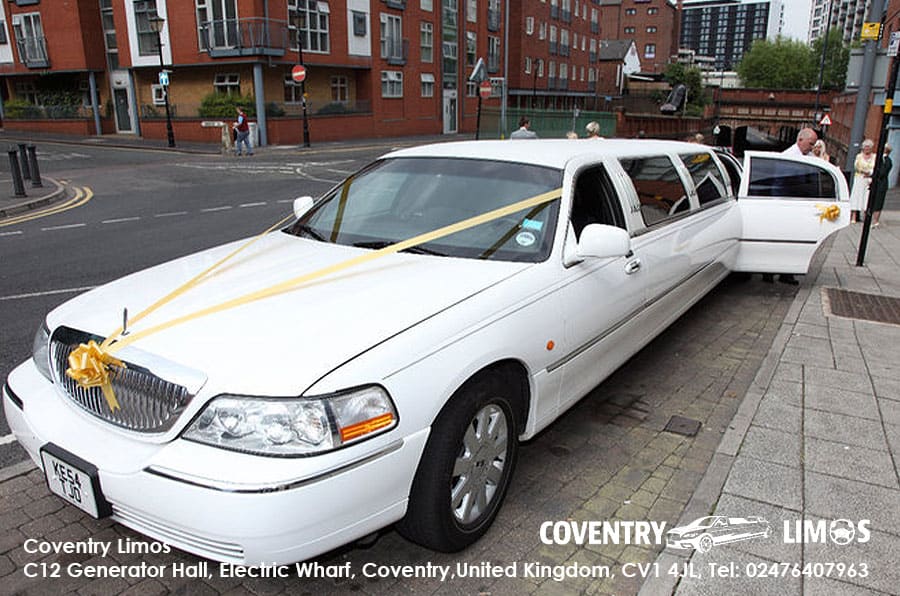 Stretch Lincoln Limo
Sleek Single Long Window Look with 24 LED Coach Lights · Plasma screen
Overhead Touch Screen Controls
Premium AM/FM/CD · DVD
Surround Sound Full-Length Stainless Steel Mirrored Ceiling with Fibre Optics
Fibre Optic Bar (6-Colors)
Full-Length Simulated J-Seat
Power Solid Divider · Dual rear air-con
Dimmer lighting · Intercom · Vanity mirrors
Black Luxury Leather interior
Champagne & cocktail bar · Privacy screen
Tinted windows · Neon lighting · Stargazer ceiling
Air conditioning · Mood lighting
Stretch Lincoln Limousine Hire In Coventry
The black Lincoln Stretch limousine is often used at funerals to transport the family and friends of loved ones who have passed away, and the white limousine is ideal for a traditional wedding theme. If you want to book the Lincoln Stretch Limousine in any of the available colours for your wedding, don't forget to tell our advisors what colour ribbon and bows you'd like us to use to decorate your car.
Experience Coventry With a Stretch Lincoln Limousine
The Lincoln Stretch Limousine is one of the most opulent limousines available. This iconic limousine is also one of the oldest in terms of construction, which explains why it has been used for so many important events over the years.
Shopping Trip Stretch Lincoln Limousine
The Lincoln Stretch is one of the most affordable limousines, and it comes in a range of colours. The Lincoln Stretch is available for hire for parties in baby yellow, vibrant pink, baby blue, as well as gold and silver.