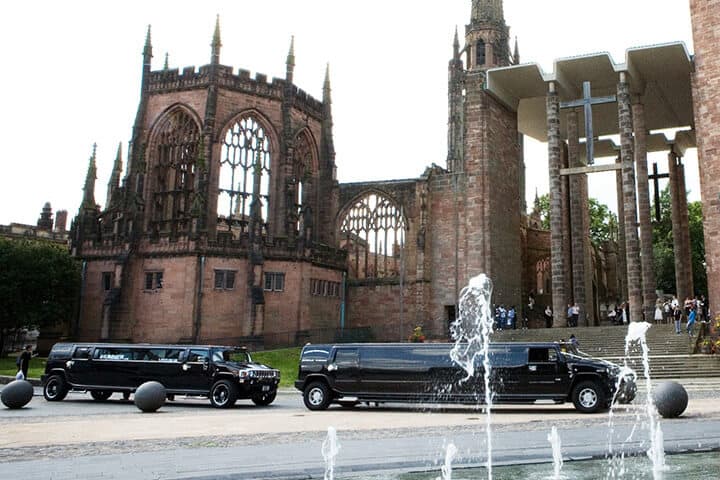 Fleet Limos & Hummers​
Coventry's Local Limo Hire Company
Coventry Limo Hire Service is proud to offer luxurious limousine rides in our top of the line, meticulously maintained cars and hummers. Our limousine fleet includes a wide variety of classy cars that are suitable to meet the needs of even the choosiest customers. Our chauffeurs are highly experienced, extremely motivated and completely dedicated to getting you safely to your destination in style and comfort.
How much is it to hire a limo in Coventry?
If you know where to look, it's often cheaper to hire a limo in Coventry rather than renting a taxi. In fact, it costs an average of just £200-300 per hour subject to the day of the week and time of year.
How Much Does It Cost To Rent A Limo?
Limos are popular because of their safety, style, comfort, and convenience. The cost of a limo depends on the company's hourly rate, vehicle type, package, and rental duration. The cost of a limousine rental is heavily influenced by its location. The majority of limo rentals occur in the evening, so expect to pay more for a night in a limo than for daytime use.
Is it possible for me to come into your office and look at the vehicles and make a reservation?
Absolutely! Customers are always welcome to come to our offices during normal business hours to look at vehicles and make reservations. We enjoy showing off our fleet, but we ask that customers schedule an appointment in advance so that we can prepare for your visit and ensure that the vehicles are available. If you want to book and pay for your reservation while you're there, you can do so on the spot.
What amenities are your cars, hummers and limos stocked with?
All vehicles are stocked with bottled water and mints. Alcoholic beverages and Krystal limousines safe drinking glasses may be with some hires subjects to the package you book.
Do you allow smoking in your vehicles?
NO SMOKING IS ALLOWED IN ANY OF THE VEHICLES. If any passenger smokes in a vehicle, a minimum cleaning fee of £300.00 will be charged, plus the cost of any damage caused by the smoking.
What is the Cleaning Process For Party Buses & City Limos?
Enhanced Cleaning To begin, we open all of the doors and vehicles to allow the air to circulate. At the same time, we begin cleaning from the top down, starting with the ceiling and working our way down to the carpet. We wipe down all surfaces, including the passengers control boards, electrical components, handles, arm rests, and sidings, with extreme care.
What Finishing Touches Do the Wedding Cars Have?
All Lux Limos and Wedding cars can have matching coloured ribbons and Bows which is always a nice Finishing Touch, Cars will have bubbly and if you need any extra decoration for your wedding ceremony please let us know.
Are you the Biggest Midlands Limos Company?
No, we are not, We, however, are a family run business with our own drivers and cars plus experience as limousine owners have helped us understand the challenges of establishing a good transportation business.
other than Platinum Limousine Hire Pack Do you have any more packages?
Yes, we have a silver and gold package. Everything you need for your perfect day is included in our Platinum Wedding Package! The Platinum Package includes Champagne for the welcome drink and toast, chair covers, a bottle of Champagne in the wedding suite, and more, in addition to the items listed in the silver and gold packages.