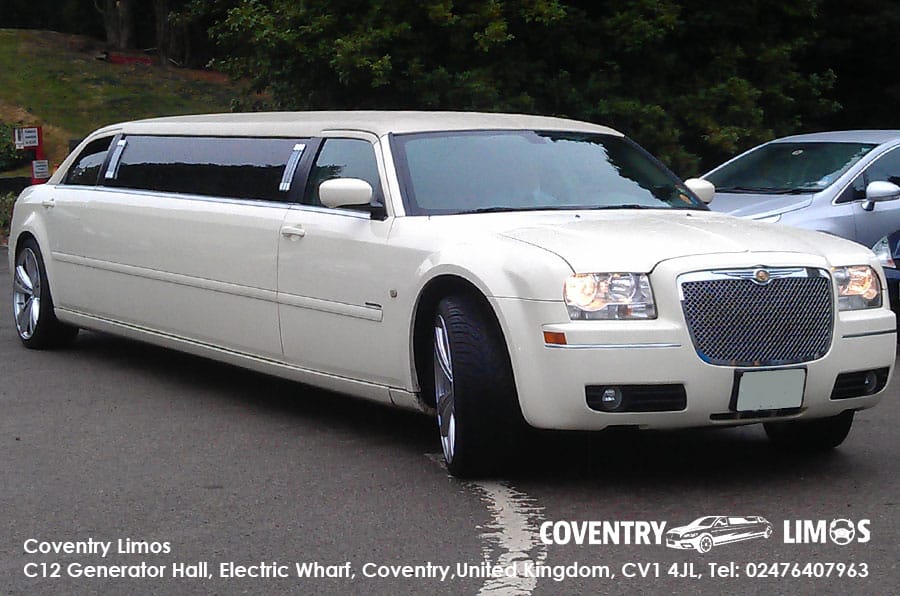 Chrysler Limousine Hire Coventry
A car of this calibre instantly adds prestige to every special occasion or business gathering and makes your guests feel respected.
Chrysler Limousine Hire Coventry
We want to provide you with a limo rental experience that will last a lifetime. We understand that with every customer we satisfy, we are fulfilling people's dreams. Call one of our sales representatives right now for more details, advice, or simply assistance in selecting the right limo rental for your case.
Book Now To Secure Chrysler Limousine for all occasions. Birthdays, girl's nights out, engagements, anniversaries, school proms, concerts or simply a way to arrive in Style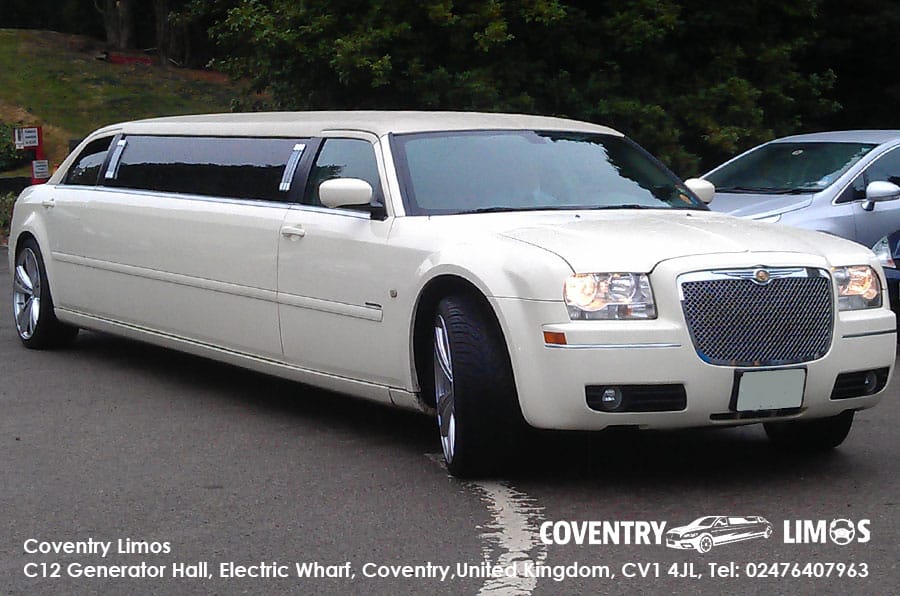 Chrysler Limousine
8 seater
White/Vanilla
22inch Alloys
Aluminium Bar
2 DVD Screens
CD player with a massive sound system
Base Box
Colour changing neon lights
Air Con
Privacy Glass
Popular Journeys: Corporate travel • Wedding Hire • Luxury Airport transfers • Events • Private Tours • Shopping Trips • Proms
Chrysler Limousine Hire In Coventry
Chrysler Limousine is without a doubt the preferred limousine of choice. Having its amazing 'on road' presence and 'Baby Bentley' physical appearance this exceptional stretch limousine has taken the UK chauffeur driven car industry to a totally new level and is considered by many to be the way forward for the limousine industry. This superb Limousine is suitable for all occasions, especially Weddings carries 8 passengers.
Experience Coventry With a Chrysler Limousine
The tinted windows of a Bentley limousine are also available for hire. Seat belts, air conditioning, rear heating, and a minibar are also included. On request, the minibar is stocked with a wide range of alcoholic and non-alcoholic beverages. To match your case, we can also decorate our limousines with colour-themed bows, ribbons, and serviettes.
Shopping Trip Chrysler Limousine
Our model has rear-hinged doors, which provide excellent visibility into the interior and enable passengers to enter and exit with ease. Phantom Hire includes a fully professional chauffeur in a chauffeur's uniform.